A Dream Come True: Wedding at The Briarcliff Manor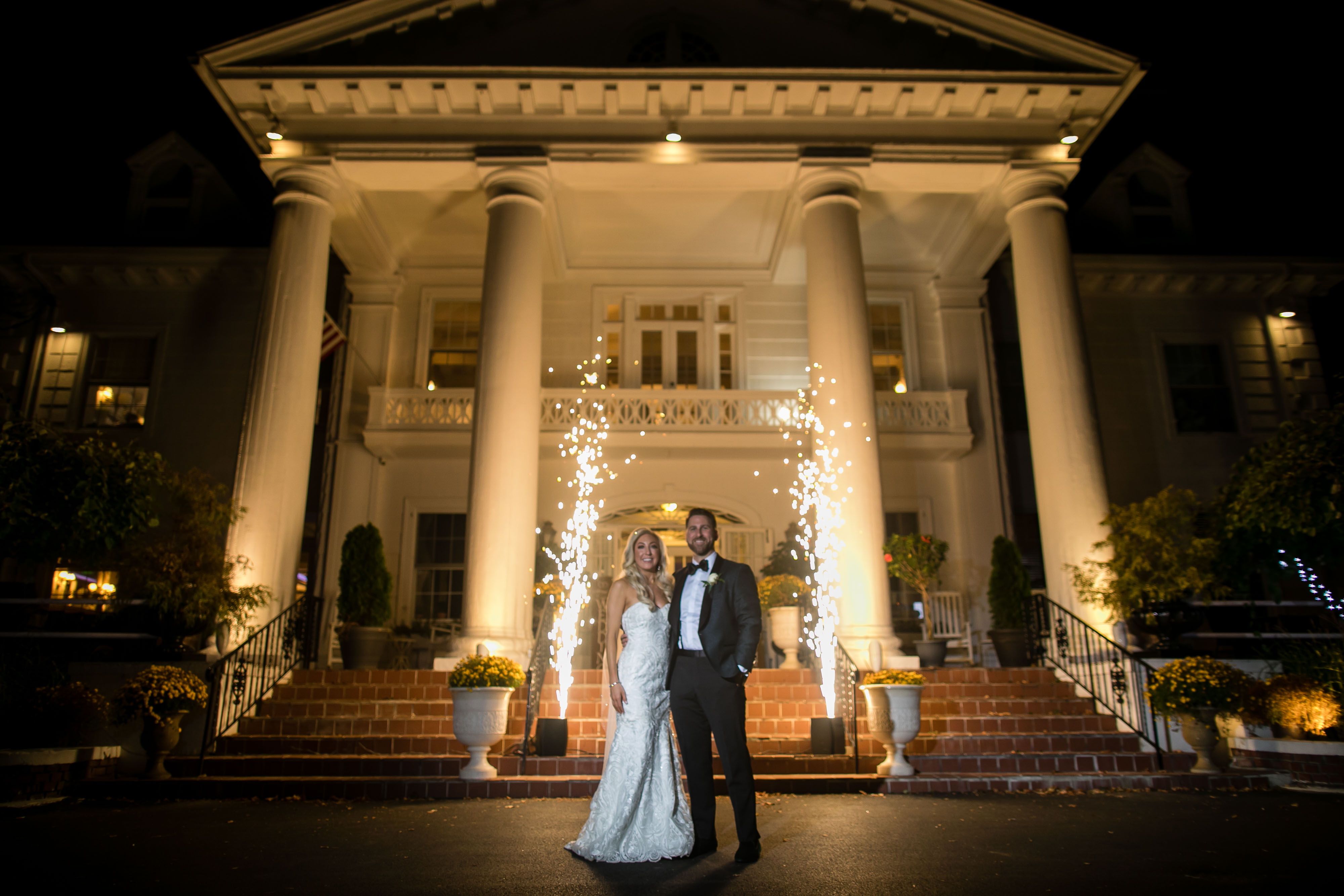 Kaitlin and Dante tied the knot on a beautiful Fall day in October of 2019. Their story is one of true love, romantic details and a whole lot of fun! Check out their below interview and photo gallery to learn more about how their fairytale came to life on their wedding day.
Congratulations Kaitlin and Dante, wishing you all the best –  a life of love and happiness! – The Briarcliff Manor Team
Kaitlin and Dante: A Dream Come True
How did you two first meet?
 Dante & Kaitlin: We were set up on a blind date by a mutual friend.
What was your first impression of each other?
Kaitlin: I thought he was super outgoing, cute and friendly.  As the date went on I realized he had a great sense of humor as well. 
Dante: I thought she was very cute and had beautiful eyes.  We had great conversation and we had a connection right away.
Who said "I love you" first?
Kaitlin: Dante did! 
Dante: I did. I think I actually wrote it in a card first to break the ice and after she read the card I said I love you. 
What was the most memorable date you two shared?
Kaitlin:  When we went to the Ice Castles in New Hampshire.
Dante: My favorite date was actually the night we got engaged.  We had a great dinner, saw the ballet and spent the night in the city.  Doesn't get much better! 
What are your nicknames for each other?
Kaitlin: My Love or Babe
Dante: Pumpkin Butt or Sweetie
What are your favorite things about each other?
Kaitlin: Dante's ability to always make me laugh.  He always compliments me, and makes me feel special. I love how he is always down for an adventure! We love experiencing things together! 
Dante:  It has always been the little things she does like leaving me notes or surprising me by cooking my favorite meal.  I love how she makes our house feel like a home by the little details she adds.
Do you have a special tradition on Valentine's Day?
Dante & Kaitlin: We like avoiding the crowds and staying home.  We always make filet mignon and enjoy a nice bottle of wine.  
Tell us about the proposal.
Kaitlin: Dante bought tickets to The Nutcracker ballet at Lincoln Center in NYC.  He reserved us a great table at a nice restaurant and also got a hotel room at the Marriott overlooking Central Park.  After the ballet we walked outside to the fountain and that is where he proposed.  He had his sister and her husband secretly taking pictures of it all.  I can't say I was super surprised because I always said to myself "if he plans something crazy big, that's probably when it's happening!!!!!"  All the details and thought behind it made it perfect.  It was an amazing night.
Dante:  I was preparing the proposal for a few months.  I had bought tickets to the ballet and organized the dinner and hotel.  I was super nervous that the night wouldn't play out the way I wanted to in my head.  But it did and everything turned out better than expected. 
The Wedding
What was your favorite part of your wedding day?
Kaitlin: My favorite part was the first look.  I always imagined what we would feel that first time we saw each other on our special day.  
Dante: My favorite part was the first look because I got to see Kaitlin for the first time in her dress. 
How would you describe the style or theme of your wedding?
Kaitlin: I wanted it very classy and not much color. I wanted it classic and timeless.  So it was mostly all silver, grey and white. 
Dante: I would say it was classy.  I like how Kaitlin picked all silver and white to keep it very clean and basic. 
 What did you look forward to most? The wedding day or the honeymoon?
Kaitlin: I was looking forward to the wedding day.  I had put so much time and work into the day, I couldn't wait to see it all come together.
Dante:  For me it was the wedding day because I'm only getting married once! We can take a vacation anytime.
What was the most fun detail of your wedding to plan?
Kaitlin:  I really liked planning the music and what songs we were going to have play at each part of the night. I also really like picking the colors and little details on the invitations and the table numbers. 
Dante:  My favorite detail were the fireworks pictures we took on the front stairs of The Briarcliff Manor.
What was the most unique detail at your wedding?
Kaitlin: I think the most unique part of the wedding was our awesome location and view.  There are not too many venues that can give you that feel on your wedding day.  The Briarcliff Manor was the first venue we saw,  and we new that day we found the perfect place.  We got so many compliments after the wedding about the grounds and how perfect the details throughout the night were especially the fireplaces at each end of the room.
Dante: I really liked the happy hour set up.  I thought it came out perfect with the food stations and the lights above.  I loved the little firepit we had as well.  I didn't even know that was going be out there so that was an awesome surprise!  
I also got our initials and the wedding date embroidered on the inside of my tux jacket.  I had surprised Kaitlin with that at our first look.  That was a favorite detail of mine. 
Dante, what were you thinking when you saw her walking down the aisle or when you did the first look?
Dante: Wow, I'm the luckiest man alive. 
Kaitlin,  what is the first thing you noticed about the groom?
Kaitlin: I thought he looked so handsome and sharp.  I loved his paisley tux jacket and the velvet shoes! He has a great sense of style and I knew he could pull something unique like that off!
Who was your maid of honor & why?
Kaitlin: My sister was my maid of honor because I couldn't imagine having anyone else stand next to me on my wedding day.  
Who was your best man & why?
Dante: I actually had my father as my best man.  He has been my closest friend longer than anyone and I thought he would be the best fit for the job.
How would you describe your wedding day in one sentence?
Kaitlin: It was a magical dream come true.
Dante: It was everything I hoped it would be.
Did you have your honeymoon yet?
Dante & Kaitlin: Yes we left the Monday after our wedding.  We went to Bali for 2 weeks. It was the most amazing experience.  We had the best time.
Now that you've planned a wedding, is there any advice you would give to future couples?
Kaitlin: I would tell other brides that there were a lot of details I thought were so important and they weren't .  I stressed over a lot of things that I didn't have to worry about.   You have to give up a lot of control which I had a hard time doing.  Everything falls into place and the little things that go wrong, no one notices.  The most important part is to enjoy the whole day because it goes by so fast!
Dante:  Be prepared to go over budget!! But it's all worth it! Enjoy the day! 
The Vendor Team
Makeup Angela Civale Abate 
Hair Maria Licari
Dress Designer Kelly Faetanini
Dress Shop A Little Something White
Groom Tuxedo My Suit
Wedding Party David's Bridal and Elephant's Trunk
DJ/Band Next Generation
Videographer Studio 1 Photography 
Photographer Studio 1 Photography 
Florist or Décor Four Seasons Flower Shop 
Bakery Homestyle Desserts 
Transportation Leros
---
---
---