A Wildly Romantic, Vintage Sustainable Fashion Wedding at The Briarcliff Manor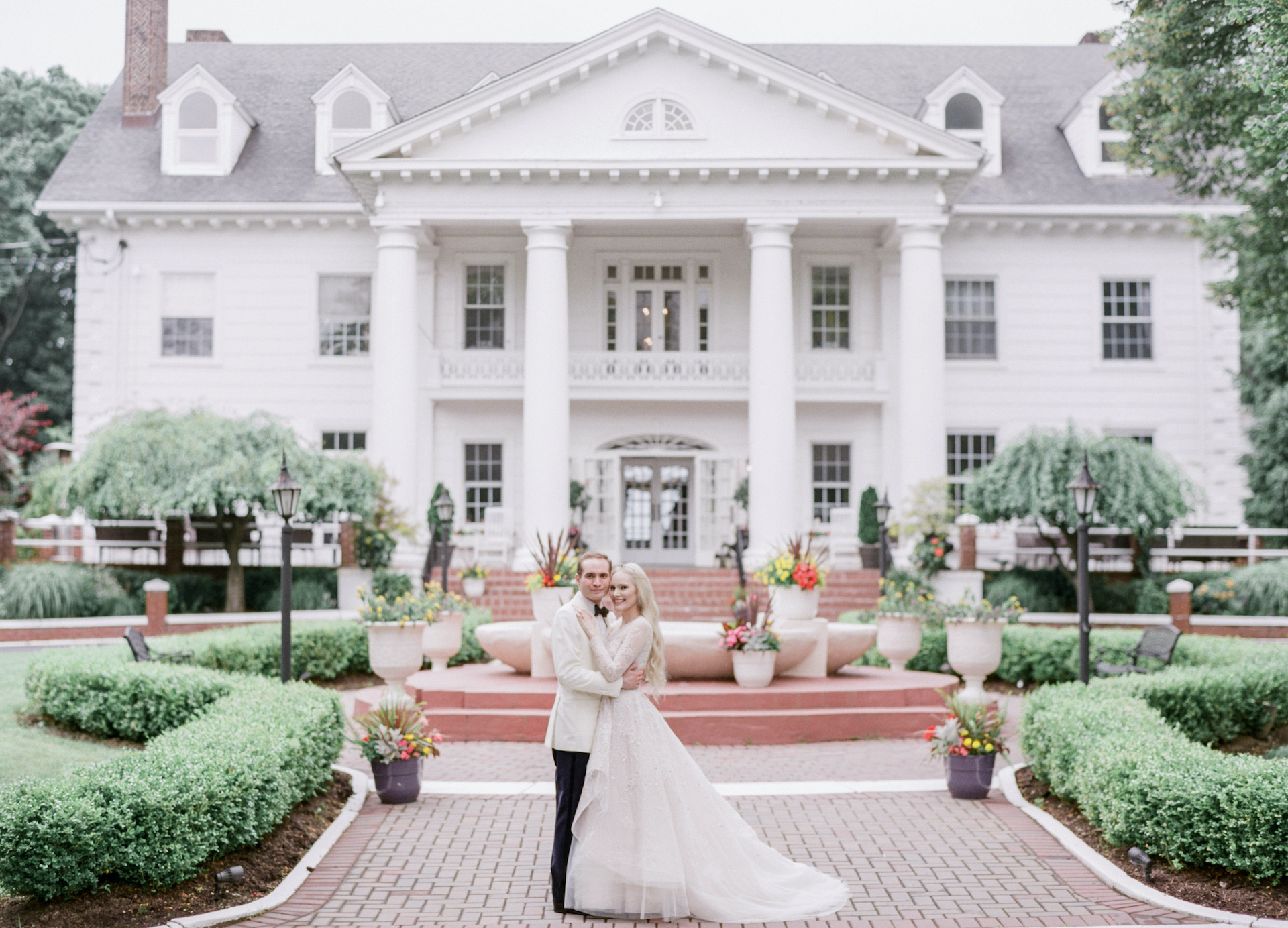 Janna and Matt married at The Briarcliff Manor on a summer day in June of 2019. This romantic pair incorporated many historic details into their wedding. From their museum first date, the vintage 1880's heirloom ring that Matt presented to Janna, to Janna's Reception Dress, their commitment to treasured tradition, elegance and styled refinement was present throughout their wedding day! 
Congratulations to you, Janna and Matt! The team at The Briarcliff Manor wishes you a lifetime of love and happiness. It was such a pleasure to help you celebrate your love, and get to know you through the planning stages of your lovely wedding! 
Check out their interview below, and don't forget to scroll through their photos. What a beautiful celebration it was. 
How did you two first meet?
We met on OkCupid and had our first date at the Whitney Museum in NYC! We meant to explore the museum for a few hours, but we had so much fun that we extended our date to dinner in the West Village and a walk along the Hudson River, where we saw a surprise display of fireworks.
What was your first impression of each other?
Matt: Janna was so kind and gentle.
Janna: Matt was handsome and immediately made me feel at ease and relaxed in his presence. 
What was your first date?
Checking out modern art at the 
Whitney Museum in NYC! 
Who said "I love you" first?
What was the most memorable date you two shared?
Our picnic at Glyndebourne, which is a gorgeous old manor house in the English countryside that also stages operas! We had champagne and cake and then watched a Baroque opera!
Is there a favorite spot you two share?
London is our absolute favorite place to go! We try to visit our friends there every year, and make time for at least one afternoon tea! 
Who met the in-laws first?
Janna met Matt's dad first, since her parents live in California. We all went out for Italian food in our neighborhood, and got to know each other! 
What are your favorite things about each other?
Matt: Janna is very smart, and she champions so many good causes!
Janna: Matt is smart, compassionate, patient, and I love how his mind is equal parts analytical and creative!
Do you have a special tradition on Valentine's Day?
We love staying in on Valentine's Day, and Matt cooks a special dinner. This year he made a tres fancy macaroni and cheese! 
What was your proposal like? Where was it?
Matt's family gave him a gorgeous family heirloom ring that had belonged to his grandmother and was made in 1946. It was a size 10.5 and we had to wait for it to be resized down to a 4.5! 
On the day of the proposal, we visited Laduree to pick up a box of macarons, then went for a walk in Central Park. While Janna waited in line for the restroom, Matt hid the ring inside one of the macarons. We walked until we found a quiet park bench, then Matt got down on one knee and gave her the macaron box and asked her to marry him. Janna retrieved the ring from inside the central pink macaron and of course said yes! 
How long have the both of you known each other?
We got engaged after 20 months of dating, and got married one year later- we knew we wanted to be together as soon as we met! 
To the Bride: How did you feel when he proposed?
I was absolutely elated! It was like the culmination of a dream. I had been recovering from a cold that seemed to go on and on, so I was still a bit sick on the day he proposed, but it cheered me up so much and I managed to feel well enough to celebrate with Italian food at Sfoglia afterward. 
What was your favorite part of your wedding day?
Janna: Standing under the chuppah with Matt for our ceremony was so magical.
Matt: Eating all the good food! 
How would you describe the style or theme of your wedding?
Classic and elegant, with antique French decorative touches! And lots of pink roses, cherry blossoms, and macarons! 
What did you look most forward to? The wedding day, the wedding night, the honeymoon?
The wedding day! We had so much fun planning it together! 
What was the most fun detail of your wedding to plan?
Matt loved planning the music! He arranged most of our ceremony music for string quartet, including Walton's "Orb and Sceptre" and Holst's "Jupiter, Bringer of Jollity". 
What was the most unique detail at your wedding? Our violinist/bandleader custom-arranged our first dance song, "Song to the Moon," from Dvorak's Rusalka, which was the first opera we ever saw together. 
What was your something old, something new and something blue?
My wedding ring was old (dating to the 1880s). My wedding shoes were new, and I had a lovely blue ring from my little sister that was also something borrowed! 
What were you thinking when you saw her walking down the aisle?
Matt: That everything was turning out beautifully, especially the bride! 
Is there anything from your wedding day that you will keep as memorabilia?
Matt will keep his kippah, which was personalized with the wedding date. Janna will keep her antique paste tiara and her veil, and the vintage 1950s Priscilla of Boston dress she wore for the reception. 
Were there any cherished family heirlooms that you had with you on the wedding day?
Matt's grandmother's 1946 engagement ring! 
What is "your song" and why?
Our song is "Song to the Moon," from Dvorak's opera Rusalka. It brings back so many memories because it was our first opera together. We need to go back again one day, because we couldn't seen the moon, a major part of the set, from where we were sitting (seats close to the stage but angled to the side).
Who was your maid of honor and why?
Janna's little sister Suzanne was the maid of honor. We adore her and could never pick anyone else! 
Who was your best man and why?
Matt's brother Sam was the best man. Matt wanted his family to be close to him on our wedding day. 
How would you describe your wedding day in one sentence?
It was our happiest and most cherished memory, to be legally married surrounded by the people we love!
Tell us about the honeymoon!
We went to Sicily, Venice, and London, traveling for just over two weeks. We rented a car in Sicily to drive to historical small towns along the coast, and saw the opera "Tosca" performed in an ancient amphitheater in Taormina. Then we toured Venice and visited Murano and Burano, ordering a gorgeous glass mirror to take home, before finishing up our trip in London 
The Vendor Team
Makeup: A Beauty by Amanda 
Hair: Jennifer Victoria for Bridal by Alexandria 
Dress Designer: Monique Lhuillier 
Alterations: My MetroFit 
Veil: Hats by Kat and Lacis 
Groom's suit: Mason and Sons 
Groom's shirt: Frank Foster
DJ/Band Jon Kass: (violinist and leader of our string quartet and jazz band). Alexis Cole sang in the jazz band at our wedding reception 

Photographer: Sophie Kaye for wedding day photos and Mariel Hannah for bride and groom portrait session 

Wedding Gown Illustration: I Do Illustration

Florist: In House Decor by Vincenza, with preserved rose bouquets by Oh Deer Floral 

Bakery: Lulu Cake Boutique 
---
---
---