A Family Affair: Engagement Party at The Briarcliff Manor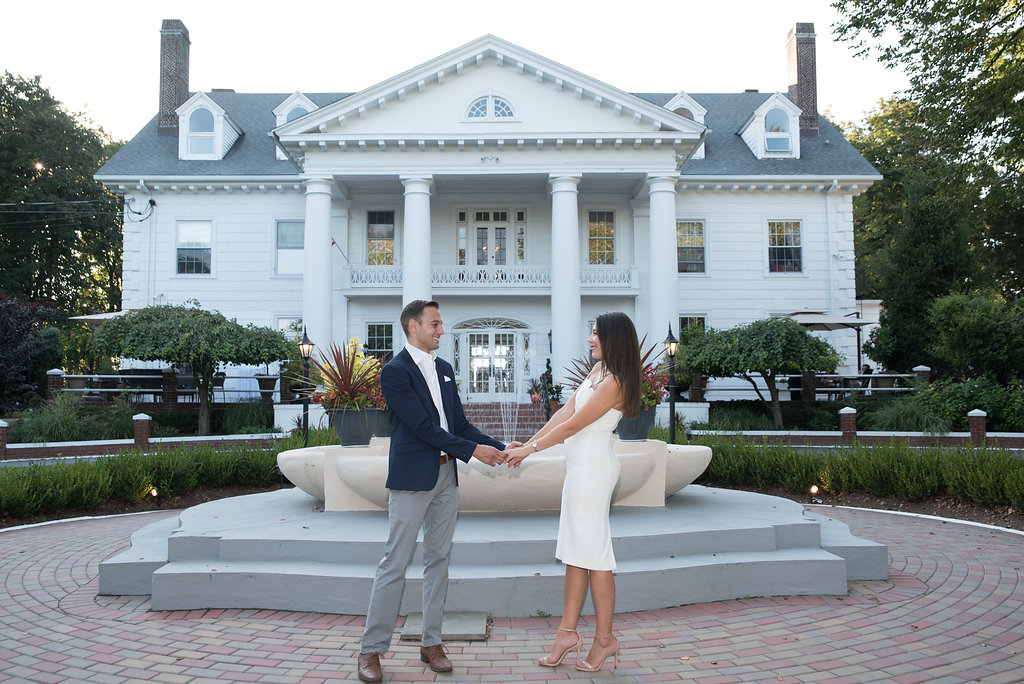 The Briarcliff Manor family has a big year of special celebrations coming up! One of our very own DiNapoli daughters, DeAnna, is engaged to her college sweetheart, Nick! In the first of many celebrations to come, DeAnna + Nick welcomed family and friends to The Briarcliff Manor this past September to celebrate their engagement.
Their love story began at Fordham University, which is why Nick chose to pull off the ultimate surprise proposal at The New York Botanical Gardens across the street from their old stomping grounds (and right before their Five Year Reunion kicked off). With both of their families there to celebrate such a special moment, Nick surprised DeAnna as he got down on one knee and popped the question! You can see the sweet moment here!
When it came to planning the engagement party, there was no question as to where the celebration should be – The Briarcliff Manor, of course!
The affair was a lovely and relaxed afternoon spent with family and friends at the Manor, in what was the ultimate engagement party goals! With outdoor and indoor seating available, the guests were able to take in the breathtaking, back-yard views from the Manor. The blue and white checkered tables were beautifully decorated with bright sunflowers and hydrangeas – all put together by our wonderful in house decorator (and DeAnna's mom), Vincenza! Keeping it in the family, the couple's gorgeous (and delicious!) engagement cake was made by Nicky's cousin Kylei who owns Dough a Deer Bakery.
There were some awesome celebration extras for guests to have fun with, both outdoors and indoors! Guests took advantage of the fun yard games available as they reveled in the gorgeous weather. Later that night, guests were also able to enjoy cigars as they watched the sun set over the Hudson. Inside, there was photobooth fun with our MirrorMe Photobooth and the unveiling of their wedding hashtag: #DelliGotHer. There were also polaroid cameras available for guests to take pictures on and to hang up for DeAnna + Nick. Family and friends enjoyed live music performed by the talented Steven Maglio – who even played the song that is planned to be DeAnna + Nick's first dance as husband and wife! 
To end the wonderful afternoon of celebration, our owners, Perry and Vincenza gave a wonderful speech in celebration of this new journey DeAnna + Nick are embarking on! 
We absolutely cannot wait for more DiNapoli celebrations! Congratulations DeAnna + Nick!
Photography by Pete Lott Photography 
Cake by Dough A Deer 
Decor By Vincenza 
Sinatra Sounds by Steven Maglio
---
---
---