From High School Sweethearts to Forever: Wedding at The Briarcliff Manor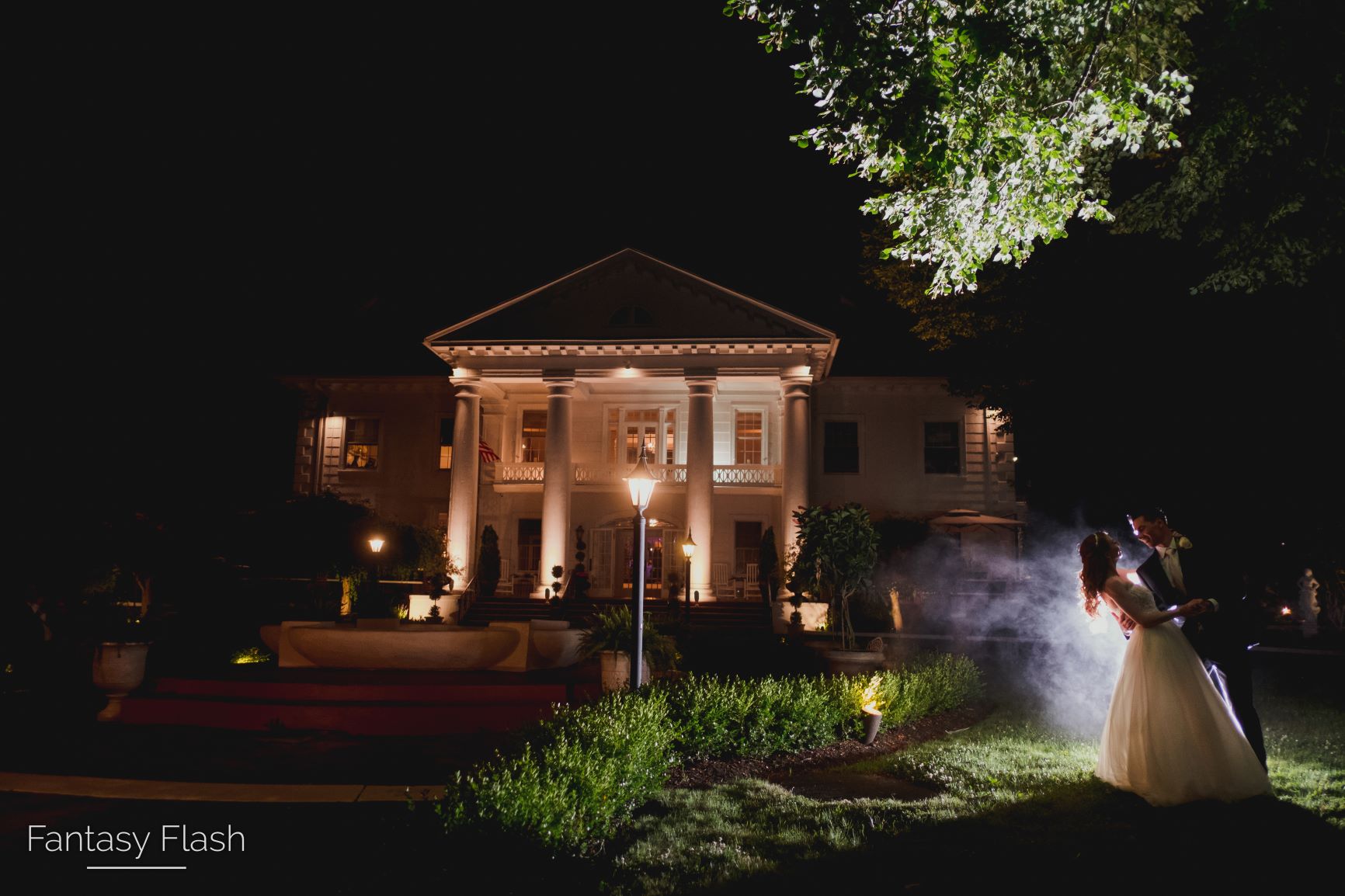 From High School Sweethearts to Forever
Alexandra and Michael first got together their senior year of high school. Take a look at this sweet couple's journey of young love, and how they ended up walking down the aisle here with us at The Briarcliff Manor!
Question: How did you two first meet?
Answer: We first 'met' through mutual friends on a trip to the Jersey Shore after our Senior Prom. Though we had known each other for awhile before that weekend, that was the first time we really spent time together outside of school and got to know each other. Shortly after that trip, we started dating! After a summer of dating, we went away to different colleges; Mike to Penn State, Alex to Stevens Institute of Technology. We dated long distance for that first year, until Mike decided to move to Hoboken and transfer to Stevens! Hoboken, NJ has been our home ever since!
Question: What was your first impression of each other?
Answer: Bride: My very first impression of Mike was that he was a little bit nerdy, kind of quiet, quick to make a joke and definitely the cutest guy in my class! Once Mike and I started to get to know each other, I learned that he was definitely a little bit nerdy, wasn't quiet at all, was always able to make me laugh, and was just as caring as he was cute! From our very first conversation, I felt like we had been friends for our whole lives. Our connection was so natural… it was so easy to be myself with him, he made me feel so comfortable!
Groom: My first time meeting Alex was a complete surprise. I thought she was smart, funny, cute and a super snappy dresser. So fashionable. We could talk for hours and we just felt like the perfect match. She totally won me over from the very first time we met.
Question: What was your first date?
Answer: Our first date happened just a few days before our high school graduation. Mike picked me up in his first car (picture a really old, bright green car that he had bought for $300, yes, $300, from the school's auto body shop) and we went to Rita's Italian Ice.
Question: Who said 'I love you' first?
Answer: Mike said 'I love you' first! We were spending one of our last weekends together at the beach before we each left for college and Mike told me he loved me. I told him I loved him too!
Question: What is the most memorable date that you two shared?
Answer: One of our most memorable dates was when Mike surprised me with tickets to see the New York City Ballet's The Nutcracker for Christmas. The night of the show, there was a huge snow storm and we got stuck in NYC! The city has issued a travel ban, so there were absolutely no cars on the streets which made walking around at night totally surreal. We walked through the streets holding hands while the snow fell and the city lights glowed and then cozied up in our hotel room warm for the night. It was magical!
Question: Is there a favorite spot you two share?
Answer: One of our favorite spots is the Jersey Shore, it's where we had our first kiss and where we first said, 'I love you'. Now we own a vacation house there!
Question: Who met the in-laws first?
Answer: Mike did! He met my mom even before our official first date! Guess that's what happens when you meet in high school…
Question: What are your favorite things about each other?
Answer: Bride: Where do I even begin! My favorite things about Mike are his picture-perfect smile, his comforting hugs, and his up-for-anything attitude. I also love how passionate he is about the things that are important to him, once he has his mind set on something, he will do whatever it takes to make it happen!
Groom: My favorite things about Alex are her eyes, her sense of humor, her wicked smartness, her confidence, her gorgeous hair, and her dedication to be the absolute best version of herself and inspiring me to do the same.
Question: Do you have a special tradition on Valentine's Day?
Answer: One Valentine's Day we went to dinner at our favorite Indian food restaurant and for the past couple of years we have gone back… I guess it's a tradition!
Question: When did you know that you were going to propose to her?
Answer: I knew I wanted to wait until after we had graduated college, but I probably knew about three or four years before getting married. I had been thinking about it for a long time and one night a dream came to me which made everything clear and I realized that I couldn't live without her.
Question: What was your proposal like? Where was it?
Answer: We were in South Carolina celebrating Mike's great grandmother's 100th birthday. One of the nights on the trip, Mike told me that he had planned something for us to do. He drove us to Newport, CA where he told me we were going on a gondola ride through the canals of Newport. While we were riding through the canals at sunset, we rode past a bottle floating in the water. He told me to pull the bottle out of the water and open it. Inside was a note that read, "Will you marry me?" Mike got down on one knee (in the moving gondola!) and asked me to marry him. Of course, I said yes!
Question: How did you feel when he proposed?
Answer: When Mike proposed, I was completely thrilled! The moment was so surreal, I couldn't believe that we were finally engaged! I always knew that Mike and I would get married someday, but I hadn't really thought about how it would feel to hear him ask me to marry him. I felt so grateful, to be in such a beautiful place, knowing that I was going to marry the man of my dreams. It doesn't get much better than that!
Question: How long have the both of you known each other?
Answer: Technically we have known each other since we were 10 years old when Mike transferred to my elementary school in the 4th grade! While we weren't really friends until the end of high school, we were classmates from then on! We had been together for 8 years before we got married.
Question: What was your favorite part of your wedding day?
Answer: Bride: My favorite part of the wedding day was saying our vows and being pronounced husband and wife in front of all of the most important people in our lives! That moment was so beautiful and so special to me, I will never forget it! Another favorite moment was our first dance!
Groom: My favorite moment was seeing everyone out on the dance floor. The second the dance floor opened it was packed, I don't even think the DJ had to ask people to come out! I loved seeing everyone out having a good time in celebration of such a great and love-filled day. I also liked the cigar setup outside! That felt unique to me and I know a lot of the guys really enjoyed it (and some of the girls too!).
Question: How would you describe the style or theme of your wedding?
Answer: I would describe the style of our wedding as romantic and elegant. We chose blush and silver colors that we thought complemented the vintage charm of The Briarcliff Manor. The decorations and the flowers were soft and simple, with candles mixed in to give the room a warm and intimate feeling. It turned out exactly how we had hoped; sophisticated, without seeming too formal or traditional.
Question: What did you look most forward to? The wedding day, the ceremony, the honeymoon?
Answer: Bride: The honeymoon! Wedding planning was exhausting, and I could not wait to set off on our next adventure! We absolutely love to travel together, and we had such an amazing trip planned. I couldn't wait to relax, make new memories, and celebrate with my husband!
Groom: The wedding day! We spent so much time planning and getting ready for it, I was so excited to see everything come together and to have everyone celebrating with us.
Question: What was the most fun detail of your wedding to plan?
Answer: Bride: My favorite detail to plan was the cake! We decided to go with cupcakes, because they are one of my favorite deserts! I didn't want just any cupcakes; Mike and I spent many weekends driving to different bakeries in Westchester trying out cupcakes until I found my favorite!
Groom: The menu! It was so much fun getting to try all of the delicious food and getting to plan what everyone would have on the menu for our wedding day!
Question: What was the most unique detail at your wedding?
Answer: One unique detail was our two signature cocktails; Stella beer and a Cosmopolitan. The drinks were inspired by the names of our two adorable cats, Stella and Cosmo, who we adopted together last year!
Question: What was your something borrowed, something new, and something blue?
Answer: My something old was my engagement ring, as the diamond in the ring had belonged to Mike's grandmother. My something new was a pair of earrings that my mom had given to me to wear on my wedding day. My something blue were my shoes which had a blue sole and were a gift from my sister (MOH) and a blue ankle bracelet from my mother-in-law.
Question: To the Groom: What were you thinking when you saw her walking down the aisle?
Answer: I was thinking that this is the moment when it became real. All of our friends and family there and my future wife being walked down the aisle by her father. She looked absolutely amazing and it felt like one of the most important moments of our lives. It's a moment I will never forget.
Question: What is the first thing the groom noticed about the bride when she walked down the aisle?
Answer: Happiness. In that moment she was glowing, and I knew that everything was going to be perfect. There wasn't a worry on her face. Seeing her so happy about being together and what we were about to do that day, nothing could have made me smile more.
Question: Is there anything from your wedding day that you will keep as memorabilia?
Answer: Something we will definitely keep as memorabilia is our wine box. We had a wine box unity ceremony; in the box we placed a bottle of our favorite wine, our vows, love letters to each other, and letters containing advice from our parents. We will open the box on our first anniversary, share the bottle of wine, re-read our vows, and open the letters. Then we will replace the bottle of wine, write a new letter and continue the tradition for each anniversary!
Question: Who was your maid of honor and why?
Answer: My maid of honor was my sister, Jen. She is two years younger than me and we have been inseparable since the day she was born! She is my best friend and I couldn't imagine my wedding day without her standing by my side. She also just so happens to be an amazing planner and has the best ideas; she made all of the events leading up to the wedding unforgettable!
Question: Who was your best man and why?
Answer: My best man was my best friend Joe. He is ridiculously funny, a great person, and we've shared a tremendous bond since we first met at school. I knew he was the right guy to support me on my wedding day.
Question: Did you have your honeymoon yet? How was it? Where was it?
Answer: We had the most amazing honeymoon in France! We spent the first part of our trip on the French Riviera, enjoying the sunshine, beaches and rose. Then we traveled to the countryside of Provence for some much-needed rest and relaxation. We spent the final part of our trip in Paris, touring the beautiful city and eating lots of desert! France will always have a special place in our hearts and we can't wait to go back!
Question: How would you describe your wedding day in one sentence?
Answer: BEST DAY EVER!… Seriously though, our wedding was the best day of our lives! The ceremony was exactly how we imagined it; so special and picturesque! The reception was SO MUCH FUN; we didn't leave the dance floor the whole night and loved celebrating with our friends and family!
Décor – Décor By Vincenza ( In-House Decor Specialist at The Briarcliff Manor) 
---
---
---