The "Perfect" Wedding at The Briarcliff Manor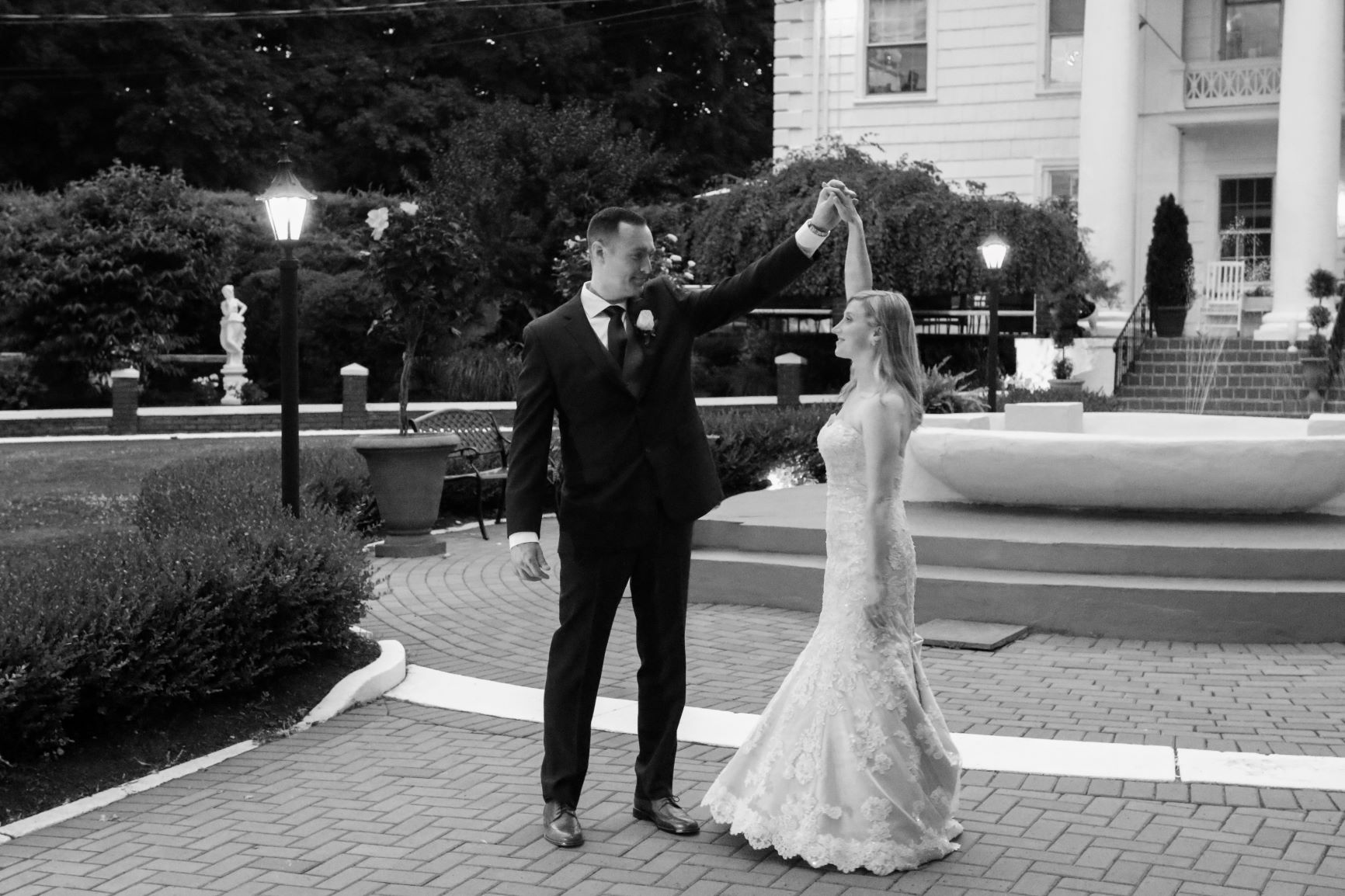 The "Perfect" Wedding at The Briarcliff Manor
Take a dive into Alexandra and Patrick's love story, how they met in a bar, how Patrick just had a feeling early on that she was the one, and how they ended up sharing their "perfect" wedding day experience with The Briarcliff Manor family.
Question: How did you two first meet?
Answer: It depends on who you ask… but technically we met at a bar.
Question: What was your first impression of each other?
Answer: Bride: I thought he was extremely handsome and very easy to talk to. Groom: She was beautiful and had an air of elegance about her.
Question: What was your first date?
Answer: We went to The Red Plum in Mamaroneck and sat at a little table in the back of the restaurant for hours. We talked all night.
Question: Who said 'I love you' first?
Answer: He did. He had gone away with his hockey team to Florida for a tournament and when he called one night to check-in, there was just something in his voice and I knew it was coming soon. Groom: I missed her, it was the first time we had been away from each other since we had begun dating and I just knew that I loved her and wanted to tell her.
Question: What is the most memorable date that you two shared?
Answer: Our first date was probably the most memorable, as we were learning more about each other and feeling more comfortable, The Thong Song by Sisqo began playing loudly, and nearly drowned out our conversation. Of all the songs to have played on your first date, we still laugh about it.
Question: What are your nicknames for each other?
Answer: Baba and Booboo
Question: Is there a favorite spot you two share?
Answer: We just love being together in general, it can be as simple as laying on the couch together (with the dog of course) at home and watching a movie. We do love going to Farmer in the Fish in Purdy's for date nights and we try to return once a year to the restaurant we had on our first date.
Question: Who met the in-laws first?
Answer: I met his parents first when they made a trip up to New York from their home in Tennessee. I remember we went to a Chinese restaurant because they don't have good Chinese food where they live. They ordered ribs, and I remember thinking how awkward to "meet the parents" while eating spare ribs which are not the neatest food!
Question: What are your favorite things about each other?
Answer: Bride: My favorite thing about him hands down, is how much he loves our dog Dylan. I got Dylan when I was 21, so it was he and I for a long time. Just seeing that he loves him just as much as I do literally makes me melt. That, how selfless he is, and his cooking skills. He's a phenomenal chef. Groom: How much she genuinely loves and cares for me. It's evident in the way she looks at me. It's a warm feeling outside my family I've never had before, and only she has ever given it to me.
Question: Do you have a special tradition on Valentine's Day?
Answer: Everyday is Valentine's Day for us! No really, we see it as more of a Hallmark holiday… and it is. But he will usually surprise me with chocolates, or something like that.
Question: When did you know that you were going to propose to her?
Answer: I had a feeling early on in the relationship that she could be the one. And when my closest friends and family met her and had nothing but positive things to say about her and how we complimented each other it helped confirm my feelings.
Question: What was your proposal like? Where was it?
Answer: Groom: It was at home on a Tuesday night. Alex isn't one who likes a lot of attention on herself, so I really wanted it to be just us. She was working late that night and I knew Tuesdays were her longest day of the week and I wanted to make it her best day. Bride: He told me he was staying home sick that day, and I thought nothing of it. Groom: she walked into our apartment that night and I came to the door to greet her. Bride: he was way too excited for someone who had been "sick". I noticed that candles were burning in the bedroom and when I went in he had roses on the bed. I thought he was just being romantic. But then he said there was one more thing and he got down on one knee, pulled out a ring box and asked if I would make him the happiest man in the world and do him the honor of becoming his wife. Of course, I said yes! Groom: She literally danced where she stood, and said "are you kidding me?!?!" I said no, and she said yes… about nine times.
Question: How did you feel when he proposed?
Answer: I just remember feeling like I was floating, and I literally couldn't keep my feet still, I was so excited.
Question: How long have the both of you known each other?
Answer: About a year and a half. We talked about it a lot and it was something we both really wanted.
Question: What was your favorite part of your wedding day?
Answer: Bride & Groom: It is so hard to pick my favorite part, but probably the ceremony, watching him watch me, walk down the aisle. Just the whole setting of the day, the sun was setting over the Hudson River… it was just perfect!
Question: How would you describe the style or theme of your wedding?
Answer: We really wanted our wedding to have a romantic and intimate feel with a twist of relaxed Southern hospitality mixed in.
Question: What did you look most forward to? The wedding day, the ceremony, the honeymoon?
Answer: 100% the wedding day. I couldn't wait for him to see me in my dress!
Question: What was the most fun detail of your wedding to plan?
Answer: Groom: Probably the menu. We wanted our entire wedding to have the cocktail hour feel to it. We selected fun dishes like chicken and waffles, included an Americano station for cocktail hour with sliders and hotdogs, and even served donuts for desert that were displayed on a wall.
Question: What was the most unique detail at your wedding?
Answer: I think just the overall vibe. We didn't go traditional. We didn't have wedding parties, so it was really just us, our families and friends who are like family to us. Groom: My family literally is spread out all over the country and some of hers came as far as from England. It was truly a small intimate day spent with those closest to us.
Question: What was your something borrowed, something new and something blue?
Answer: They really were only new, like my dress, and the Swarovski crystal earrings which were gifts from my mom. My something blue I'll leave to imagination…
Question: To the Groom: What were you thinking when you saw her walking down the aisle?
Answer: Stunning, gorgeous… and the smile she had on her face is what made me fall in love in the first place.
Question: What is the first thing the groom noticed about the bride when she walked down the aisle?
Answer: The first thing I noticed was her eyes, they were sparkling. Followed by her smile which was radiating. Her dress was unbelievable, it was gorgeous!
Question: Is there anything from your wedding day that you will keep as memorabilia?
Answer: Bride: My bouquet of white roses. They are currently hanging in our home. Groom: Well, we tried to keep a piece of wedding cake but the Mrs. Has a sweet tooth.
Question: Were there any family heirlooms that you cherished with you on the wedding day?
Answer: Groom: My dad had given me his watch before the wedding. My mom gave me the shield my grandfather wore when he was a fireman.
Question: What is "your song" and why?
Answer: We chose "H.O.L.Y" by Florida Georgia Line, it's a beautiful song and the lyrics just mirrored how we feel about each other.
Question: Who was your maid of honor and why?
Answer: We actually didn't have wedding parties, we wanted to keep it very simple. Just us. However, I did have two of my closest girlfriends in the room helping me to get ready.
Question: Who was your best man and why?
Answer: One of our good friends, Matt was with me in the groom's suite leading up the ceremony and he stood up at the altar with me while I waited for her, just to keep me relaxed. He was also our honorary ring bearer.
Question: Did you have your honeymoon yet? How was it/where was it?
Answer: Groom: We went to The Cape and Martha's Vineyard. We both love being by the water and neither of us had really been before. We are already planning a trip back for our one year anniversary.
Question: How would you describe your wedding day in one sentence?
Answer: We can describe it with one word, "Perfect."
Band – Devonshire Players
Photographer – Alesca Photography
In-house Décor Specialist – Décor By Vincenza
---
---
---