You Asked, We Listened!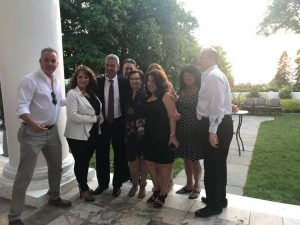 About a year ago here at The Briarcliff Manor we decided to go in a different direction with our business plan. Our event business was thriving so we closed our doors for our restaurant, Antipasti di Napoli, enabling us to continue to do what we do best for more than 25 years, which is to stay focused on our mission of providing spectacular events.
However, over and over, we've been asked by customers near and far, "Is the restaurant open? … We just love coming to the manor, it's the most beautiful place and we love your food! …. When can we come for dinner?"
You asked and we listened, so here you go!  Every month we will be hosting an event called "Wednesday Night Live" or "Thursday Night Live" so that the local community and our customers can enjoy our grounds, fantastic cuisine, and stay connected.  Most Importantly we will be choosing one organization per month that is near and dear to us and the community, to support and to raise money for.
What to expect at Wednesday/Thursday Night Live: 
Fund Raising Raffles, live music, ordering off of our Signature Antipasti di Napoli and Appetizer Menu, cash bar, and we can't forget to mention good company, gorgeous sunsets, laughs, and a most importantly FUN!
"Wed/Thurs Night Live" is perfect for after work drinks with friends or co-workers, girls/guys night out, or a great way to liven up a regular old date night.
So mark your calendars and come by for our next "Wednesday Night Live" night on June 20th. 
To reserve your tickets visit here: wednesdaynightlivejune.eventbrite.com – We'll be benefitting LLS – Leukemia Lymphoma Society in support of the quest for a research grant for Ossining Resident Gio Toribio. 
*There is a $20 Cover at the door, or paid online*
This event is sponsored by RTA – Rising Tides Alliance  – a networking organization that believes in connecting businesses, strengthening community relations and supporting local charitable initiatives.
---
---
Our First Live Night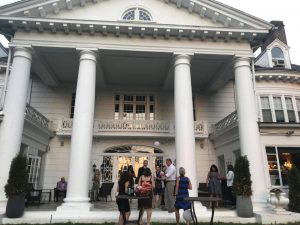 Our First "Wednesday Night Live" was held on May 23, 2018 here at the Manor.
We welcomed guests from the community who laughed, drank, ate, listened to live music by Jay Hitt and enjoyed the grounds and unforgettable sunset.
We dedicated the evening to a wonderful organization called "Drug Crisis In Our Backyard." This organization was started by Carol Christiansen, a friend of The Briarcliff Manor, and focuses on creating awareness about the dangers of drug use, reducing the stigma associated with drug addiction, and assisting those who are addicted or at risk by providing resources. 
Through a raffle of items donated by The Briarcliff Manor, we raised $370 for the organization. 
What could be better than giving back, and having fun at the same time!
---
---