A Historic Picturesque Private Estate with Hudson River Views for couples who want exclusivity, personalized client service and gourmet cuisine. 
We're excited you're considering our family of properties for your wedding and would love to be of assistance to you in planning the wedding day of your dreams!

Our team of dedicated event professionals will work with you to customize a wedding that
matches your vision and needs.
There are several areas across the property, inside and out, that allow for a truly unique wedding experience:
You and your wedding party will enjoy our private photo ready suites before the wedding.

Our ceremony location is uniquely beautiful with up close views over the Hudson River Valley, picture-perfect for every season.

A 60 minute cocktail hour where your guests will enjoy gourmet food, beautiful views, and cocktails. 

An elegant and spacious reception area with hard-wood floors and original period details including landmark fireplaces, wrought iron doors, and enchanted french doors.
---
Don't Just Take Our Word for It!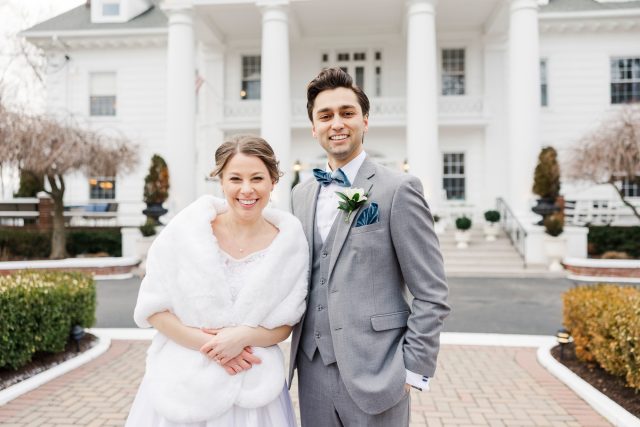 Bronte and Kyle
My husband and I just had our wedding at The Briarcliff Manor on 01/14/23. First of all, the venue itself is absolutely breathtaking… I mean the photos speak for themselves! I cannot put into words how amazing everything came together thanks to Emily and the staff. I am a control freak, so relinquishing control and handing that over to Emily and the team put me at ease. About a month before the wedding, Emily sat with us to go over the entire menu, decor details, ceremony, and a rough timeline of the day. She is organized, calm, and just a truly genuine person who you can tell loves what she does. I dropped off all of the additional decor, signage, etc. two days prior to our wedding. Fast forward to the day of the wedding, the team did not miss a beat. Stephanie is a relatively new to the venue, but she is an ANGEL!!! During portraits, she spent the whole time fluffing my dress, making sure I looked perfect for the camera. She was our bridal attendant and provided the best service! She also grabbed two of every cocktail menu item and brought it over to my husband and I to make sure we got a chance to have everything on our menu. We opted to rent out the in house photobooth, and boy was that a hit with our guests! (She provides an option to include a photo album, which I highly recommend because guests can sign next to the photos they place in the album.) The day couldn't have gone any better, and the staff made it so easy for me and my husband to just sit back and relax. BOOK THIS VENUE!
Haley and Ryan
We couldn't be more thrilled that we picked The Briarcliff Manor for our wedding venue. The place is gorgeous and so well kept! We were planning to have our ceremony and cocktail hour outside but unfortunately it rained. Perry, Emily, and the rest of the staff pivoted quickly and gave us a solid indoor plan, even with a party of 160 people. The reviews we've received from our guests have been nothing but raving. The food was incredible and the staff couldn't have been more friendly and accommodating. Best day of our lives. Highly recommend!!
Victoria & Tom
My husband & I got married at The Briarcliff Manor in September and were just blown away by our experience. Emily, Perry, and the staff handled all of our requests with grace, and left my husband & I completely stress-free on our big day. The wedding ceremony backdrop is STUNNING. Your guests will get to watch you at the altar surrounded by the Hudson Valley landscape. Our guests were also raving about the food. Everything from cocktail through dessert received positive reviews. We also used Vincenza for our decor and a beautiful altar arch floral backdrop. She was so professional and kind, and produced amazing work! I would highly recommend The Briarcliff Manor to anyone who is still searching for their perfect venue. You will not be disappointed!
We can't wait to meet you to learn more about your dream wedding!
Let's Chat!